Casino
The Top 5 Casinos Offering No Deposit Free Spins in 2020
Free spins are a great way to maximise your online slots profit margins, and the great news is that many – if not most – casinos offer free spins when you sign up. Free spins allow you to play slots for real money without staking any money out of your own pocket.
Best No Deposit Bonus Casinos for 2020
However, many online casinos require you to make a deposit of some amount in order to qualify for their free spins offer, meaning they're not entirely free. Similarly, some casinos require you to re-stake any winnings that you get from your free spins in order to be able to cash them out. This makes the free spins almost guaranteed to lose you money, rather than win any!
Worry not, we've compiled the top 5 websites and online casinos that offer 100% free spins with absolutely no deposit. These 'free spins no deposit' casinos give you profit-only free spins.
My Vegas
My Vegas will definitely give you the best run for its free spins. My Vegas offers essentially unlimited 100% free spins on their slots software. Their super fun animated slots app gives you free spins that refresh every day.
While the My Vegas app doesn't offer any monetary value for bonuses, it does offer you rewards in the Sin City itself. You'll get free Las Vegas experiences ranging from money off Las Vegas hotels to helicopter rides and even a free 3-day stay in some of Vegas' most famous luxurious hotels. The app is operated by MGM, so all the rewards are at MGM's hotels, restaurants and experiences.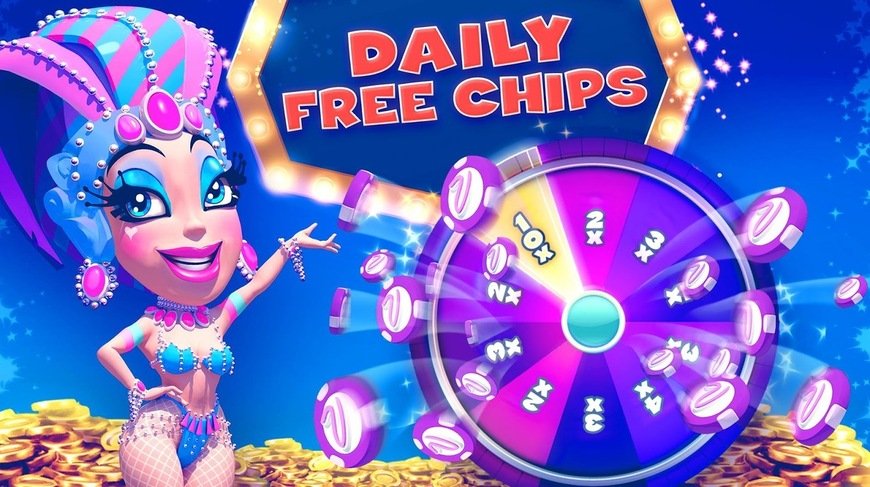 Each new player who signs up receives a free 500,000 chips to play with, and if you sign in every day you'll receive a daily topup which grows each day you sign in. Every win you get on the spins give you My Vegas points, which add up until you can cash-in for your free experiences!
These experiences are the best value free spins in our list because their cash value is so high and you'll never have to spend a cent.
Tip: Be sure to connect via Facebook for extra rewards!
Wynn Slots
Next up is the Wynn Slots app, which as you may have guessed is owned and operated by Wynn resorts. Much like the My Vegas app, the Wynn Slots app gives you essentially unlimited free spins in order to win rewards at Wynn resorts, hotels and restaurants.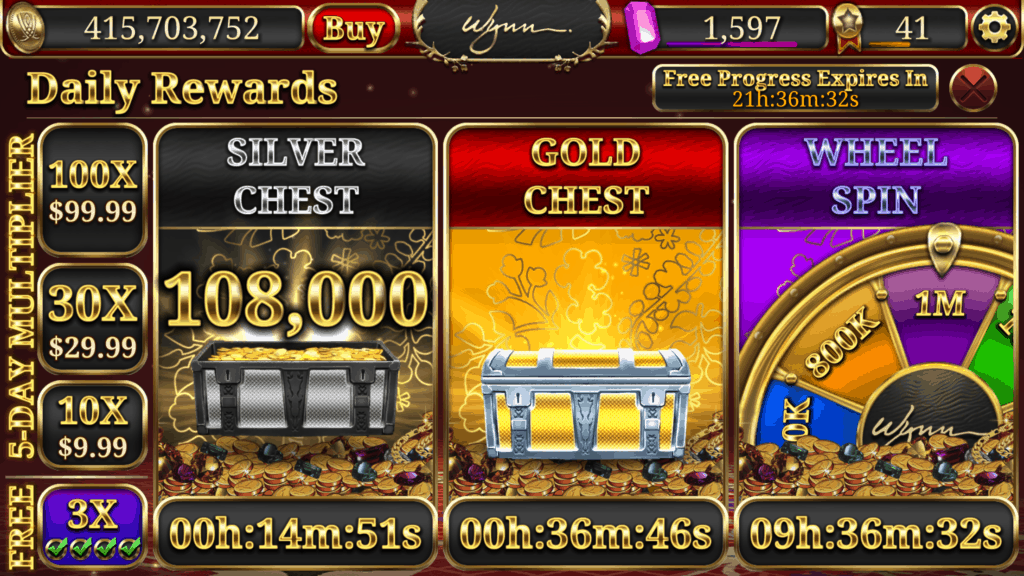 This app comes in second to My Vegas as it offers less varied rewards and you'll typically find it takes longer to rack up reward points on the Wynn Slots app.
However, you'll still receive a top up of points every day. This top up will increase each day that you sign in up to a maximum of 30 days in a row.
PokerStars
PokerStars is the biggest online poker site in the world. However, they still offer other classic casino games, such as blackjack, roulette, and of course – slots!
When you sign up to PokerStars Casino, you'll typically receive 10 no deposit free spins on their slots. PokerStars also offers no deposit free spins when you complete particular challenges on their other casino games – so while you'll have to wager money to complete the challenges, the free spins themselves won't cost you a thing.
PokerStar's terms and conditions for their free spins clearly states: "Any jackpot wins occurring as a result of Free Spins will always be paid as cash, with no restrictions or wagering/withdrawal requirements."
PokerStars is well known for its many no deposit bonus offering, including challenges and rakeback schemes.
Cashmo
Cashmo is an online casino that only offers slots. As you can imagine, that means they're keen to tempt new players to their service through the use of no deposit free spins.
However, it's worth noting that Cashmo's free spins will not earn money that goes straight into your pocket, but will be returned to your account as online credit which you can then wager again on their various slots games.
Cashmo still comes in fourth for our no deposit free spins casino offers, however, as they're willing to offer large amounts of free spins to both new and returning customers. If you like to play slots for fun, you won't go wrong with Cashmo.
The Pools
The Pools is an online casino for sports betting and slots which offers a no-nonsense no deposit free spins bonus for new customers. New customers will receive £2 credit for their free spins which will translate to 20 free spins at the equivalent of 10p each.
Although these spins are completely free, a 10p spin is unlikely to see large returns, and 20 spins isn't many. So while it's definitely worth signing up to The Pools for your free spins, you may well run out of spins before you see any real results.
Tip: Your free spins at The Pools run out after 7 days – so make sure to use them quickly!
Get Spinning!
Remember, even with free spins, slots have the largest house edge of any casino games, meaning you're unlikely to turn a profit. In fact, the longer you play, the less likely you are to make a profit at all.
So play safely and responsibly, know your limits, and always use whatever free bonuses you can get your hands on!
Note: This post is written by Lisa Whelan – gambling expert from Lemons & Sevens. Lisa loves poker and gambling, and loves a good sign-up bonus too! So she's compiled this list for everyone else who's looking for a good no deposit free spin bonus.